Bulgarian policeman shot dead patrolling Turkish border for migrants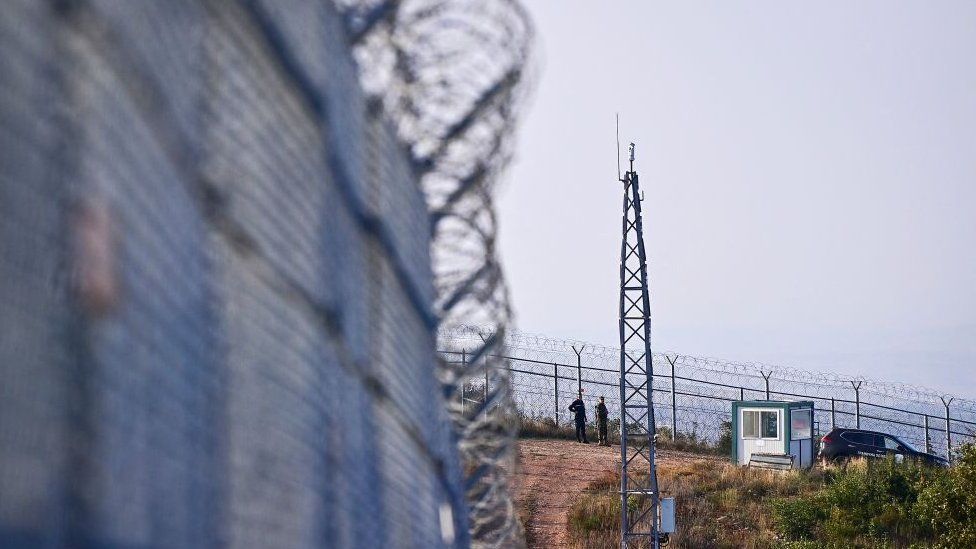 A Bulgarian guard has been killed on the border with Turkey after his patrol was shot at by suspected migrant traffickers, officials say.
Sgt Petar Bachvarov was hit when he and a colleague spotted a hole in the border fence near the village of Golyam Dervent, the interior minister said.
The border has become increasingly popular with migrants trying to cross into the EU.
But officials say the shooting late on Monday night was unprecedented.
The police officer was struck by gunfire when he shone a torch on the section of fence that had been breached, they said.
Between 10 and 15 bullets were fired from Turkish territory, ministers said. Sgt Bachvarov's defence ministry colleague had managed to take cover behind their vehicle and fired back. He escaped unharmed.
Bulgarian officials said migrant traffickers were behind the shooting. Prosecutors later told Bulgarian TV that Turkish authorities had arrested a suspect and an alleged accomplice. Neither of them is believed to be Turkish.
Bulgaria has become a prime route for people trying to reach the EU from the Middle East and Afghanistan. Residents told Bulgarian radio that groups of irregular migrants were frequently seen walking through Golyam Dervent, but there had never been any violence.
Bulgaria's interior ministry said more than 12,740 migrants were detained in Bulgaria in the first nine months of 2022, double last year's number. The number of attempted border crossings also doubled to 80,000 in the first eight months of the year.
A razor-wire fence was erected on its 270km (170-mile) border with Turkey during the European migrant crisis in 2015-16.
However, border patrols regularly find holes made by migrant traffickers. Caretaker Defence Minister Dimitar Stoyanov told reporters that the border fence had become unreliable and had to be replaced with walls and high barriers.
Although border police have not come under fire before, two police officers were killed in August when a bus that had entered Bulgaria illegally carrying dozens of migrants rammed their vehicle in the Black Sea port of Burgas.
More on this story
Migrant crisis: Bulgaria tightens border with Turkey
Related Topics
Turkey
Europe migrant crisis
Bulgaria