Christchurch mass killer appeals against conviction and sentence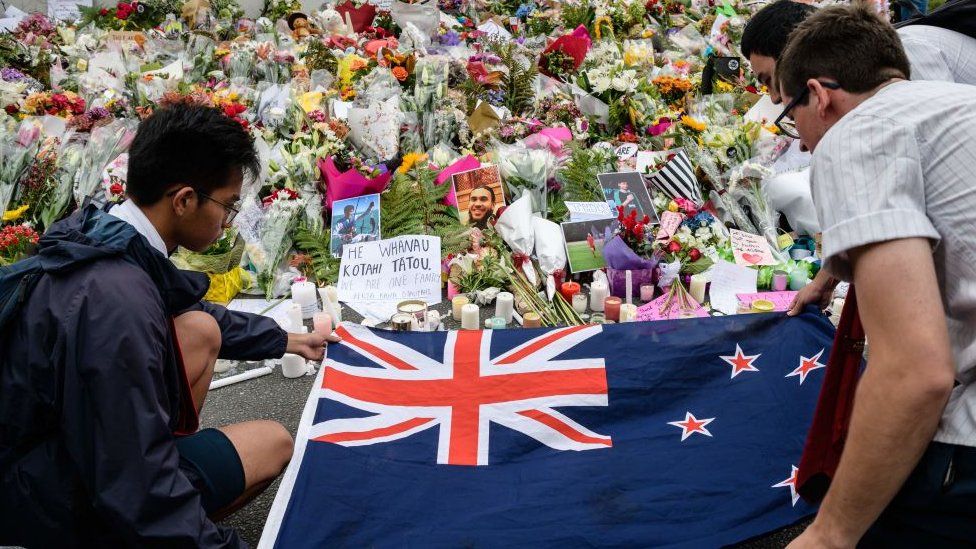 The white supremacist who murdered 51 people at two mosques in New Zealand is appealing against his conviction.
Brenton Tarrant, 32, has filed an appeal against his case and sentence, court officials said. No hearing for the appeal has been set at this stage.
Tarrant was jailed to life without parole in 2020 for the murder and attempted murder of Muslim worshippers.
Prime Minister Jacinda Ardern said he was attempting to "revictimise people".
Asked about his appeal, Ms Ardern told reporters: "His is a name that shouldn't be repeated and I'm going to apply that same rule in commenting on his attempts to revictimise people. We should give him nothing."
Her government refuses to publicly name Tarrant to deprive him of any platform or notoriety.
Imam Gamal Fouda, a survivor of the attack at the Al Noor mosque in Christchurch, said he was "struggling to understand" a motive for Tarrant to appeal given "he himself pleaded guilty".
"I cannot help but think that this is another action from this terrorist to harm his victims again by keeping alive the memory of him and his terrorist actions," he told The New Zealand Herald newspaper.
Christchurch killer to stay in jail until he dies
Christchurch massacre 'unpreventable', says inquiry
Christchurch victims confront gunman who killed 51
Tarrant, an Australian national who moved to New Zealand in 2017, stormed two mosques in the southern city on 15 March 2019, armed with military-grade semi-automatic guns.
He had the intention of killing as many Muslim people as he could, his trial heard in 2020. He livestreamed the attack on Facebook via a headcam and also published a 74-page manifesto on extremist forums.
During his trial, he chose to not give any testimony. He pleaded guilty to the charges of murder, attempted murder and terrorism and also declined to oppose the prosecution's call for the maximum sentence possible.
He was sentenced to life imprisonment without parole – the first time New Zealand handed down the punishment. The country does not have the death penalty.
His sentencing judge at the time noted Tarrant showed no contrition, remorse or shame for his actions. "Your crimes are so wicked that even if you are detained until you die, it will not exhaust the requirements of punishment," said Judge Cameron Mander.
A coronial inquest is currently underway in New Zealand into the attack. Authorities on Tuesday said they would consider whether the appeal might affect the inquest.
The Christchurch attack was the worst mass shooting in New Zealand's history. The shootings prompted parliament to pass stricter gun laws and buy back certain types of weapons from owners.
Those killed in the Christchurch shootings
51 people lost their lives in the attack on two mosques in the New Zealand city in 2019.
The child, the father, the aspiring footballer
'This mosque was precious to us': A city in shock
'I lost a best friend'
More on this story
The people killed as they prayed

Christchurch killer to stay in jail until he dies

Christchurch victims confront gunman who killed 51

Christchurch massacre 'unpreventable', says inquiry

Australia soul-searches after Christchurch
Related Topics
Christchurch mosque shootings
Jacinda Ardern
New Zealand